Jami Carlacio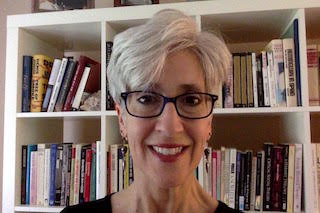 Address:
63 High St, New Haven, CT 06511-6642
Ph.D. University of Wisconsin-Milwaukee, 2001
M.A. California State University-Sacramento, 1994
B.A. Gonzaga University, 1986
Yale Divinity School, M.Div in progress. Expected: May 2022
I have been teaching writing and literature for more than 20 years now, with an emphasis on freshman composition, writing-intensive literature courses, and advanced writing. I have also had the pleasure of teaching creative nonfiction, autobiography, American literature since 1865, and North American slave narratives. Here at Yale, I teach two sections of English 114: "Democracy and the Media in the Digital Age" and "Wit, Wisdom, and Courage: Women's Social Activism in the U.S."
When I am not teaching, I am writing. I have published work on the fiction of Nobel laureate Toni Morrison, on nineteenth-century African American women activists, and most recently, on Sojourner Truth within the framework of womanist theology and black feminist standpoint epistemology. I am currently at work on a book project tentatively entitled Activism in the Name of God: Black Feminist and Womanist Public Intellectuals from the Nineteenth Century to the Present.
INTERESTS:
African American rhetorical history since the nineteenth century, African American literature since 1865, Feminist Theory, Rhetorical Theory, Digital Media and Pedagogy, Women and Social Movements
SELECTED PUBLICATIONS SINCE 2010 (full list on CV):
- "Aren't I a Woman(ist)?": The Spiritual Epistemology of Sojourner Truth." Journal of Communication and Religion, Forthcoming, vol. 39, no. 1, Spring 2017.
- "Narrative Epistemology: Storytelling as Agency in Toni Morrison's A Mercy." Toni Morrison: Paradise, Love, A Mercy, edited by Lucille P. Fultz, Continuum Press, 2012. Pp. 129-146.
- "Teaching Digital Literacy, Digitally: A Collaborative Approach." Dancing with Digital Natives: Staying in Step with the Generation That is Transforming the Way Business is Done, edited by Heidi Gautschi and Michelle Manafy, CyberAge Books, 2011, pp. 315-31. Co-authored with Lance Heidig, Cornell University. Finalist in USA Best Books 2011, General Business category.
- Editor, Candidate Jokola by Irakli Kakabadze. Vista Periodista, 2010 and Siesta Publishing, 2009. [Received Oxfam Novib/PEN Award, 2010]
BOOK IN PROGRESS:
Activism in the Name of God: Black Feminist/Womanist Public Intellectuals from the Nineteenth Century to the Present
COURSES:
English 114: Writing Seminars (Democracy and the Media in the Digital Age)
English 114: Writing Seminars (Wit, Wisdom, and Courage: Women's Social Activism in the U.S.)