Geoffrey Hartman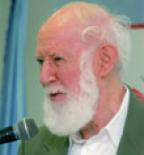 Title:
Sterling Professor Emeritus & Senior Research Scholar of English and Comparative Literature
Address:
149 Elm St, New Haven, CT 06511-6609
B.A. (summa cum laude), Queens College of the City of New York, 1949, Comparative Literature
Ph.D., Yale University, 1953, Comparative Literature
INTERESTS:  My interests are predominantly in the study of poetry and issues of interpretation. But I suspect I am at heart an essayist always finding something of basic human and social interest.
SELECTED PUBLICATIONS:
–Wordsworth's Poetry (1964; several reprintings)
–Beyond Formalism (1970)
–Criticism in the Wilderness (1980; to be reissued 2007)
–The Longest Shadow: In the Aftermath of the Holocaust (1996; reissue, 2002)
–The Geoffrey Hartman Reader (2004)