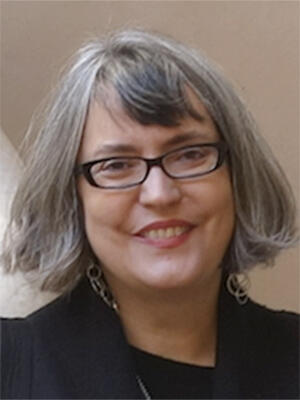 Event time:
Friday, November 1, 2019 - 4:00pm
Event description:
Theory & Media Studies Colloquium and the Department of Religious Studies with the support of the Institute of Sacred Music welcome Amy Hollywood of Harvard Divinity School to present her talk "Dystopia, Utopia, Atopia".
Friday, November 1, 4:00pm-6:00pm, Linsly-Chittenden 211
In the face of contemporary critiques of dystopia as engendering political hopelessness and apathy, this lecture explores the instability of the category itself. Bringing together work by the German jurist and political philosopher, Carl Schmitt, and the American ex-patriot and poet, H.D., I will show that each engages in thought experiments that might be taken as dystopic, but just as easily as utopic–and hence, as refusing the sharp contrast on which these generic distinctions are made. Schmitt and H.D. also bring into play issues central to the work of the contemporary U.S. poet, Susan Howe, with which I will close this talk. Howe's poetry and essays, particularly in The Nonconformist Memorial, lead me to posit the usefulness of the idea of a-topia, a thinking of the past, present, and future in which the alpha privative points to a more radical kind of "no place" than that first posited by Thomas More's utopia. At the center of my argument is the idea that literature–and other works of the imagination–may be the necessary non-place, or place without the limitations of place, for thinking pasts and futures that are literally uninhabitable–as much as I may try, I can't actually live in a book–and yet whose temporary psychic, imaginative, intellectual, and affective existence is vital for human life.
 
Amy Hollywood is the author of The Soul as Virgin Wife: Mechthild of Magdeburg, Marguerite Porete, and Meister Eckhart, which received the Otto Grundler Prize for the best book in medieval studies from the International Congress of Medieval Studies; Sensible Ecstasy: Mysticism, Sexual Difference, and the Demands of History, and Acute Melancholia and Other Essays. At the moment she is completing Don't Touch Me: Essays on Difficulty and Faith: Three Explorations in Religion, Literature, and Politics, co-authored with Constance Furey and Sarah Hammerschlag.
This event is made possible by the support of the Edward J. and Dorothy Clarke Kempf Fund at Yale University.