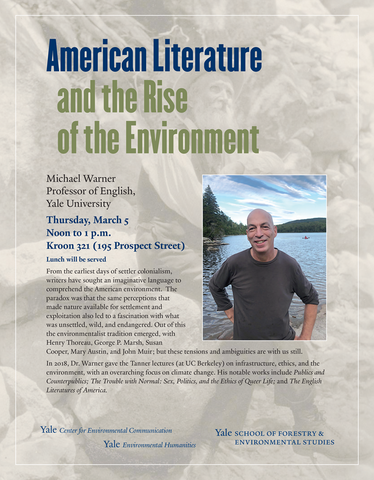 Event time:
Thursday, March 5, 2020 -

12:00pm

to

1:00pm
Location:
Kroon 321 (195 Prospect Street)
Event description:
Michael Warner will give a talk on how the environment is represented in American literature presented by The Yale Program on Climate Change .
From the earliest days of settler colonialism, 
writers have sought an imaginative language to 
comprehend the American environment.  The 
paradox was that the same perceptions that 
made nature available for settlement and 
exploitation also led to a fascination with what 
was unsettled, wild, and endangered. Out of this 
the environmentalist tradition emerged, with 
Henry Thoreau, George P. Marsh, Susan 
Cooper, Mary Austin, and John Muir; but these tensions and ambiguities are with us still.
In 2018, Dr. Michael Warner gave the Tanner lectures (at UC Berkeley) on infrastructure, ethics, and the environment, with an overarching focus on climate change. His notable works include Publics and Counterpublics; The Trouble with Normal: Sex, Politics, and the Ethics of Queer Life; and The English Literatures of America.
Thursday, March 5
Noon to 1 p.m.
Kroon 321 (195 Prospect Street)
Lunch will be served