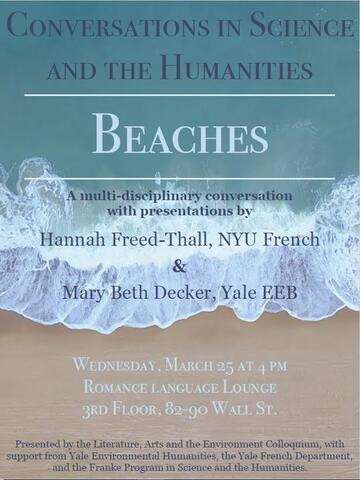 Event time:
Wednesday, March 25, 2020 - 4:00pm
Location:
Romance Languages Lounge 303
Event description:
This event has been cancelled.
Save the date for the second conversation in the Conversation series in Science and the Humanities! This series, sponsored by the Literature, Arts and Environment colloquium, hopes to bring together scientists and humanists to talk about interests shared between their work. The next event is on Beaches and will feature Hannah Freed-Thall (NYU, French) and Mary Beth Decker (Yale, EEB). Wed 3/25 at 4pm in the Romance Language Lounge (3rd Floor, 82-90 Wall Street.) If you have any questions, please don't hesitate to contact abigail.fields@yale.edu.