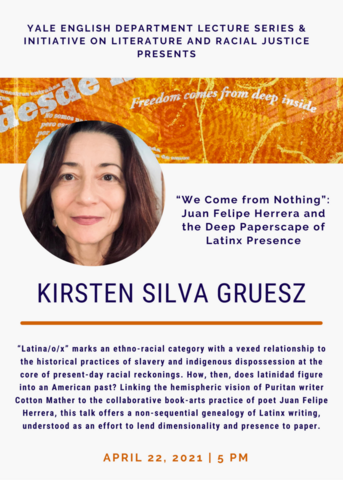 Event time:
Thursday, April 22, 2021 - 5:00pm
Event description:
Professor Kirsten Silva Gruesz will give a talk titled: "We Come from Nothing": Juan Felipe Herrera and the Deep Paperscape of Latinx Presence.
"Latina/o/x" marks an ethno-racial category with a vexed relationship to the historical practices of slavery and indigenous dispossession at the core of present-day racial reckonings. How, then, does latinidad figure into an American past? Linking the hemispheric vision of Puritan writer Cotton Mather to the collaborative book-arts practice of poet Juan Felipe Herrera, this talk offers a non-sequential genealogy of Latinx writing, understood as an effort to lend dimensionality and presence to paper.
April 22, 2021 at 5pm
Zoom link here