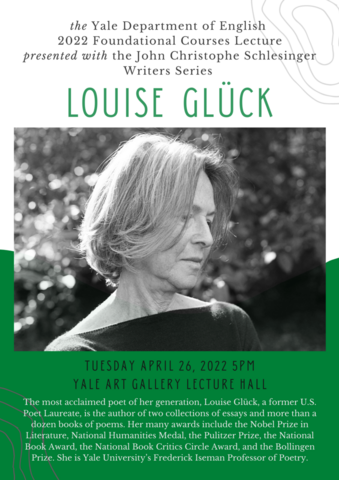 Event time:
Tuesday, April 26, 2022 - 5:00pm
Event description:
The Yale Department of English 2022 Foundational Courses Lecture presented with the John Christophe Schlesinger Writers Series: Louise Gluck.
The most acclaimed poet of her generation, Louise Glück, a former U.S. Poet Laureate, is the author of two collections of essays and more than a dozen books of poems. Her many awards include the Nobel Prize in Literature, National Humanities Medal, the Pulitzer Prize, the National Book Award, the National Book Critics Circle Award, and the Bollingen Prize. She is Yale University's Frederick Iseman Professor of Poetry.
April 26th at 5pm in Yale Art Gallery lecture hall
Info to get to the Yale Art Gallery lecture hall:
- You can enter either at 201 York St., through the loading dock door – this is the accessible way.
- Or, through the back entrance on High Street, to the right of Skull & Bones. Keep walking until you get to the Art Gallery. You'll reach it eventually!
- Please do NOT enter through the main Art Gallery doors – they will be locked.
- No food or drinks allowed.