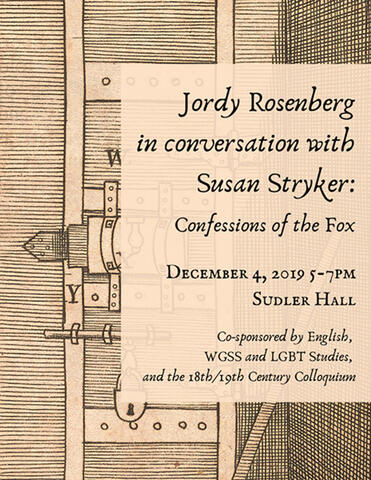 Event time:
Wednesday, December 4, 2019 - 5:00pm
Event description:
Jordy Rosenberg in Conversation with Susan Stryker: Confessions of the Fox
Jordy Rosenberg is the author of Confessions of the Fox, published in 2018 by Random House/One World in the U.S., Atlantic Books UK, Allen & Unwin in Australia, and forthcoming from Paseka in Czech.  He received an MA and PhD from Cornell University, and a BA from Wesleyan University. He is the recipient of a Society for the Humanities Fellowship from Cornell University (2013-2014), and an Ahmanson-Getty Fellowship from the Center for Seventeenth- and Eighteenth-Century Studies at UCLA (2009- 2010), as well as a Marion and Jasper Whiting Foundation Award, the Catherine Macaulay Prize, and a William Andrews Clark Memorial Library Joint Fellowship Award. Professor Rosenberg's fields of research and teaching include eighteenth-century transatlantic literature and poetry, moral philosophy, political theory, queer and trans theory, early modern materialism, Marxism, and secularization. Professor Rosenberg's first book, Critical Enthusiasm: Capital Accumulation and the Transformation of Religious Passion, was published in 2011 by Oxford University Press.  
Susan Stryker is Associate Professor of Gender and Women's Studies.  She is the author, most recently, of Transgender History: The Roots of Today's Revolution (Seal Press 2017). She won a Emmy Award for the documentary film Screaming Queens: The Riot at Compton's Cafeteria (Frameline/ITVS 2005), a Lambda Literary Award for the co-edited anthology The Transgender Studies Reader (Routledge 2006), and the Ruth Benedict Book Prize for co-edited anthology The Transgender Studies Reader 2 (Routledge 2013).  She is founding co-editor of the academic journal TSQ: Transgender Studies Quarterly. Research interests include transgender/queer/feminist studies, LGBTQ history, film and media, built environments, somatechnics, and critical cultural theory.
This event is made possible by the support of the Edward J. and Dorothy Clarke Kempf Fund at Yale University.