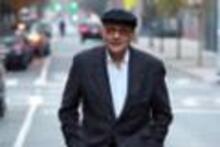 Charles Bernstein: "The Pitch of Poetry"
Thursday, February 27 at 4:00, LC 317
Currently the Donald T. Regan Professor of English and Comparative Literature at the University of Pennsylvania, poet and essayist Charles Bernstein has authored and edited more than 50 books over the course of his diverse career. His most recent books of poetry include Recalculating and All the Whiskey in Heaven: Selected Poems. Books of essays include Attack of the Difficult Poems: Essays and Inventions, My Way: Speeches and Poems, and A Poetics, among others. Elected to the American Academy of Arts & Sciences in 2006, he is the recipient of awards from the New York Foundation for the Arts, University of Auckland, the Guggenheim Memorial Fellowship, and the National Endowment for the Arts. Bernstein taught at SUNY Buffalo from 1990-2003 where, in addition to being named SUNY Distinguished Professor, he co-founded the Poetics Program and the Electronic Poetry Center with Robert Creeley and Loss Glazier, respectively. Editor of L=A=N=G=U=A=G=E with Bruce Andrews, Bernstein's own poetry has appeared in more than 500 publications. A native of New York, Bernstein attended the Bronx High School of Science and Harvard University, from which he graduated in 1972.