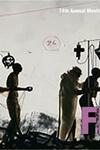 For more than seven decades The English Institute has been a major resource for developments in criticism, theory, and scholarship, while honoring traditional fields of interest and modes of literary analysis.
The English Institute is on the move! 
Beginning in 2015, the annual meeting of the English Institute, one of the most distinguished literary conferences in the world, will convene in rotation at East Coast, Midwest, and West Coast locations.
The Institute will reach a nationwide audience while continuing to underscore the importance of literary study.
Three institutions will now host the English Institute conference: Yale University, the University of Chicago, and the University of California at Irvine.
Founded in 1939, the English Institute first held its meetings at Columbia University. Since 1972, it has enjoyed the hospitality of Harvard University, as well as two decades of generous funding from the Harvard President's office.
The Trustees of the Board of Supervisors are grateful to Harvard for its long support of the English Institute and to our three new university partners.
We look forward to welcoming returning and new attendees and participants to the 2015 meeting of the English Institute at Yale which takes place September 18-19 at the Whitney Humanities Center, 53 Wall Street, New Haven, CT. 
For more conference details and information about The English Institute please visit: http://englishinstitute.yale.edu/