On April 5, the Department of English held a long-anticipated event:  the first Foundational Courses Reading connected with our new undergraduate curriculum. 
Among other positive changes to the shape of our English major, we were keen in our curricular revision to widen the perspective of the foundational courses that introduce our students to the history of writing in English.  These courses—a suite of four from which students choose three—are designed to connect great writers of the past to great writers in the present, and to draw connections among writers from England, America, and all over the globe.  Our new model, which still maintains the history of poetry as its core, expands the spectrum of what constitutes an inclusive understanding of tradition and what grounds a contemporary understanding of culture.
In order to implement and celebrate this broadening of the curriculum, we fantasized that we might institute an annual reading by a contemporary writer of major stature, a poet whose work and presence demonstrate that poetry is a living art with a profound ability to speak to the present even as it forms part of an historical continuum.  Such an event would illuminate how poetry vitalizes the history of the English language but would also indicate how students can learn to lay claim to their own places in that history, no matter their background.  It would celebrate the breadth of our intellectual community and showcase the possibilities for writing in and studying English literature in the 21st century. 
Given all of our hopes for this event, and its significance to the Yale English Department at this moment of transition and growth, it was a special delight to welcome Rita Dove—Commonwealth Professor of English at the University of Virginia, former US Poet Laureate, Pulitzer Prize winner, National Book Award finalist, and winner of the NAACP Image Award in Poetry—as our first Foundational Courses Lecturer. 
Professor Dove read for about an hour in LC 102 to an audience of about 200 standing and sitting along every wall:  undergraduate students, graduate students, and faculty.  She made numerous connections between her poems and the writers taught in our foundational courses, elegantly setting context and including poems she has rarely (if ever) read aloud in a public forum. The lecture was followed by a question period moderated by Richard Deming, our Director of Creative Writing, and then a reception in the Library Court of the Yale Center for British Art.  Earlier in the day, Professor Dove had met with about 18 undergraduate students in special hour-long seminar that began with questions gathered in advance, then opened out to more casual conversation.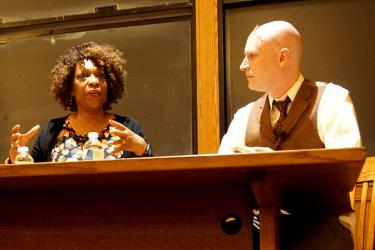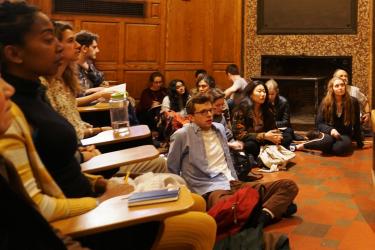 This event, with all of its different parts, provided a powerful opportunity to create connections not only among majors, but also throughout our whole community in Yale English.  It was a moving evening that beautifully manifested the role that literature plays in fashioning a conversation between history and the present moment.