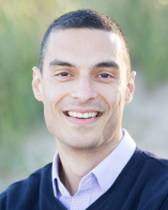 Event time:
Thursday, February 1, 2018 -

5:30pm

to

7:00pm
Location:
Linsly-Chittenden Hall (LC ), 319
63 High Street
New Haven
,
CT
06511
Event description:
John Alba Cutler (Ph.D., University of California, Los Angeles, 2008) specializes in US Latino literatures, multiethnic American poetry, contemporary American literature, and print culture studies. His book Ends of Assimilation: The Formation of Chicano Literature, published by Oxford University Press, examines how Chicano/a (Mexican American) literary works represent processes of assimilation, and what those representations can teach us about race, gender, and the nature of literary discourse. Ends of Assimilation argues that Chicano/a literature illuminates and critiques the historical consolidation of assimilation as a sociological discourse, but also that assimilation discourse helps to clarify the myriad ways that Chicano/a literature imagines cultural change.
Professor Cutler has published articles in American Literary History, American Literature, MELUS, and Aztlán: A Journal of Chicano Studies. He is a core faculty member of the Latina and Latino Studies Program and a member of the Minority Scholars' Committee for the American Studies Association. He is active in the Poetry & Poetics Colloquium as well, and serves as a series editor for the Drinking Gourd Chapbook Poetry Prize. He received the Weinberg College Distinguished Teaching Award in 2013.