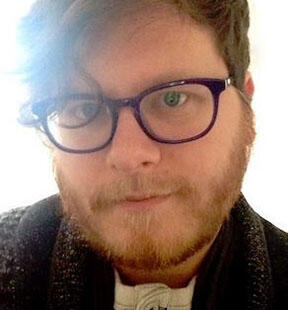 Event time:
Friday, February 22, 2019 - 4:30pm
Event description:
Containment Anxiety: (Counter)desiring the Ekphrastic Moment in Elizabeth Bishop and John Ashbery
Concerns with pictures and picture-making are central to the poetics and representational strategies of Elizabeth Bishop and John Ashbery. In my chapter, I examine why painting and pictures appeal to these poets—and what limitations they present. By attending to such poems as "Large Bad Picture" and "Self-Portrait in a Convex Mirror," I argue that Bishop and Ashbery ultimately crave a break from the ekphrastic gaze and its insistence on media taxonomies, and, in so doing, that they lay the foundation for a distinctly queer lyricism, one that resists the confining frameworks of identity and desire.
Brandon Menke is a poet and Ph.D. candidate in English Literature at Yale University, where he teaches American literature and creative writing. His dissertation examines lyric form, regionalist aesthetics, and networks of queer intimacy in American literature and visual art in the twentieth century. He serves as an editor-in-chief and poetry editor of Palimpsest: Yale Graduate Literary and Arts Magazine as well as a Guest Critic in the Yale School of Art. He organizes the Graduate Poets Reading Series and coordinates the American Literature in the World Graduate Conference with Wai Chee Dimock. Before commencing his doctoral studies, he earned an MFA in poetry at NYU.  
Brandon will be presenting a chapter from his ongoing research project at the 20/21 Colloquium. 
Friday, February 22 4:30pm, Linsly-Chittenden 319