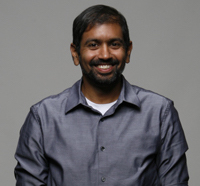 Event time:
Thursday, November 30, 2017 -

5:30pm

to

7:30pm
Location:
Linsly-Chittenden Hall (LC ), 319
63 High Street
New Haven
,
CT
06511
Event description:
Snehal Shingavi is associate professor of English at the University of Texas, Austin, where he teaches South Asian literatures in English, Hindi, and Urdu, as well as the literature of the South Asian diaspora. He received his PhD in English from the University of California, Berkeley and has taught previously at Notre Dame de Namur University and the University of Mary Washington. He is the author of The Mahatma Misunderstood: the politics and forms of literary nationalism in India (Anthem Books, 2013). He is also the translator of Munshi Premchand's Sevasadan (Oxford, 2005), the Urdu short-story collection, Angaaray (Penguin, 2014), and of Bhisham Sahni's autobiography, Today's Pasts (Penguin, 2015). He has a forthcoming translation of Agyeya's Shekhar: A Life (Penguin, 2018) and is working on a translation of Joginder Paul's A Drop of Blood. He is currently working on a book-length manuscript titled, The Country and the City, the Jungle and the Slum: the landscapes of poverty in the era of neoliberal development.