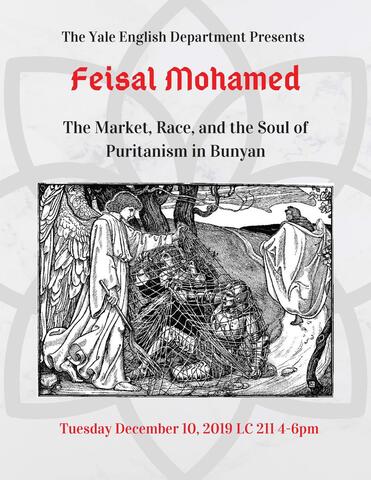 Event time:
Tuesday, December 10, 2019 - 4:00pm
Event description:
Feisal Mohamed will be giving a talk "The Market, Race, and the Soul of Puritanism in Bunyan" on Tuesday, December 10th at 4pm in LC 211.
Feisal G. Mohamed is a scholar, critic, and essayist whose writing has appeared in The New York Times series "The Stone," in Dissent Magazine, the Chronicle Review, the Yale Review, The American Scholar, Huffington Post, and on the website of The New Republic. He is currently a professor at the CUNY Graduate Center. Among his awards and recognitions are a New Directions Fellowship from the Mellon Foundation, an Honorable Mention for the Modern Language Association's William Riley Parker Prize, and a James Holly Hanford Award for an outstanding book on poet John Milton. 
Mohamed's academic writing focuses on early modern English literature, as in his books In the Anteroom of Divinity (2008); Milton and the Post-secular Present (2011); Milton and Questions of History (2012), co-edited with Mary Nyquist; and Milton's Modernities (2017), co-edited with Patrick Fadely. Journals in which his work has appeared include Milton Quarterly, Milton Studies, PMLA, Journal of the History of Ideas, University of Toronto Quarterly, and Huntington Library Quarterly. He is a past president of the Milton Society of America and editorial board member of Milton Studies. Responding to widespread defunding of public higher education and of the humanities in particular, often referred to as the "crisis in the humanities," he co-edited with Gordon Hutner the volume A New Deal for the Humanities: Liberal Arts and the Future of Public Higher Education (2016).