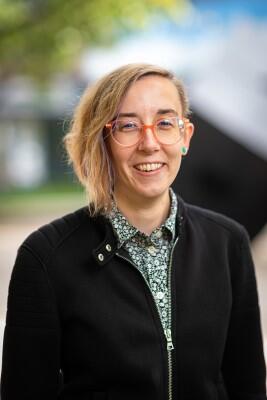 Event time:
Thursday, December 9, 2021 - 4:00pm
Event description:
Intrusive Trans Thoughts: Rhetorics of Exposure and Pathology in Behavioral Intervention Technologies
Please join the English Department in welcoming M. Remi Yergeau, Associate Professor of Digital Studies and English at the University of Michigan. 
Thursday, December 9, 4:00pm, Linsly-Chittenden 101 and Zoom
In this talk, I examine rhetorical constructions of what is popularly termed "trans OCD," a diagnostic subtype attributed to presumably cisgender people who fear they might be transgender. Drawing upon frameworks from transgender studies, critical disability and mad studies, and theories in digital rhetoric and writing, I draw our attention to the dissoi logoi, or contrasting (and at times paradoxical) arguments that frequently pervade neuroqueerness. In particular, this talk unpacks how behavioral interventions deployed via mobile health technologies are proffered as treatment modalities that simultaneously negate and encourage so-called trans obsessions. Although behavioral interventions for OCD putatively embrace uncertainty, the figuration of trans potentiality in mHealth interventions and imaginal exposures rhetorically assumes a static, cisgender subject whose gender-based fears are madness borne of social contagion.
Remi Yergeau is an associate professor of Digital Studies and English and associate director of the Digital Studies Institute at the University of Michigan. They are an autistic academic, and their scholarly interests include writing studies, digital studies, queer rhetorics, disability studies, and theories of mind. Their book, Authoring Autism: On Rhetoric and Neurological Queerness (Duke UP), is a winner of the 2017 Modern Language Association First Book Prize, the 2019 CCCC Lavender Rhetorics Book Award for Excellence in Queer Scholarship, and the 2019 Rhetoric Society of America Book Award. They are currently at work on a second book project on disability, techno-rhetorics, surveillance, and sociality, tentatively titled Crip Data. Their other publications can be found in Pedagogy, Journal of Social Philosophy, Kairos, Disability Studies Quarterly, and College English, among other places.