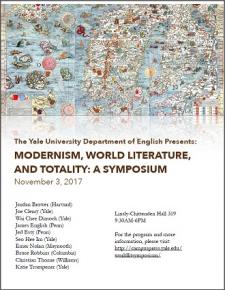 Event time:
Friday, November 3, 2017 -

9:30am

to

6:00pm
Location:
Linsly-Chittenden Hall (LC ), 319
63 High Street
New Haven
,
CT
06511
Event description:
The Yale University Department of English presents a symposium on Modernism, World Literature, and Totality to be held on Friday, November 3rd, 2017.
The terms 'world literature' and 'literary world system' have provoked considerable controversy in recent years. This symposium will attempt to advance the ongoing debate by addressing some of the following questions: Can one have a 'world literature' or a 'literary world system' without developing some strong historical account of how these might have emerged and consolidated? Is it possible to think about world literature and aesthetic worldedness without world-encompassing theories or some concept of 'totality' to match? Is there, as Pascale Casanova and Franco Moretti suggest, one singular 'literary world system,' or should we posit several stratified and overlapping modern 'world systems' with multiple capitals? Do literary upheavals such as 'modernism,' 'late modernism' or 'postmodernism' point towards significant realignments of the Euro-American 'literary world system' or perhaps signal expansions of its scope and extent? By what means, literary, extra-literary, or both, do 'literary world systems' change?
For more information, please visit: http://campuspress.yale.edu/worldlitsymposium/