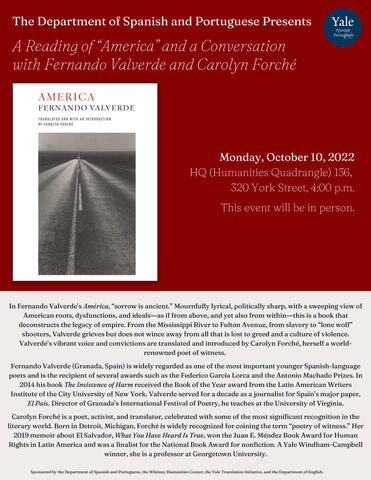 Event time:
Monday, October 10, 2022 - 4:00pm
Event description:
In Fernando Valverde's América, "sorrow is ancient." Mournfully lyrical, politically sharp, with a sweeping view of American roots, dysfunctions, and ideals―as if from above, and yet also from within―this is a book that deconstructs the legacy of empire. From the Mississippi River to Fulton Avenue, from slavery to "lone wolf" shooters, Valverde grieves but does not wince away from all that is lost to greed and a culture of violence. Valverde's vibrant voice and convictions are translated and introduced by Carolyn Forché, herself a world-renowned poet of witness. 
Fernando Valverde (Granada, Spain) is widely regarded as one of the most important younger Spanish-language poets and is the recipient of several awards such as the Federico García Lorca and the Antonio Machado Prizes. In 2014 his book The Insistence of Harm received the Book of the Year award from the Latin American Writers Institute of the City University of New York. Valverde served for a decade as a journalist for Spain's major paper, El País. Director of Granada's International Festival of Poetry, he teaches at the University of Virginia.
Carolyn Forché is a poet, activist, and translator, celebrated with some of the most significant recognition in the literary world. Born in Detroit, Michigan, Forché is widely recognized for coining the term "poetry of witness." Her 2019 memoir about El Salvador, What You Have Heard Is True, won the Juan E. Méndez Book Award for Human Rights in Latin America and was a finalist for the National Book Award for nonfiction. A Yale Windham-Campbell winner, she is a professor at Georgetown University.