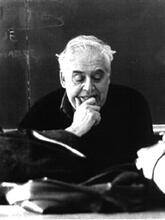 Harold Bloom GRD '56, a Sterling Professor of English, author of over 40 books and an iconic defender of the Western canon, died on Monday at the age of 89 at a New Haven hospital.
Bloom attained widespread academic recognition for his innovative interpretations of poetry. His passionate defense of romanticism earned the literary critic the title of "a lone warrior in the literary world," according to a 2003 story in The Atlantic magazine. Bloom is survived by his wife Jeanne, whom he married in 1958, and his two sons, David and Daniel. In a statement sent to the News on Monday evening, University President Peter Salovey expressed his condolences to Bloom's family for their loss.
"Professor Bloom … was a galvanizing teacher," Salovey wrote. "He did not simply teach poetry — he inhabited it. His critical books, infused with his erudition, changed the landscape of poetic criticism."
There will be a memorial held for him on Saturday January 18, 2020 at 2pm at Battell Chapel.
https://www.nytimes.com/2019/10/14/books/harold-bloom-dead.html
https://yaledailynews.com/blog/2019/10/14/sterling-professor-harold-bloom-dies-at-89/