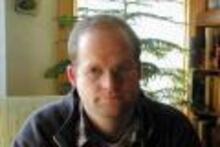 January 28, 2014
7:00 p.m.  LC 102
Award-winning Cartoonist and Author,
Author of Jimmy Corrigan: The Smartest Kid on Earth
Chris Ware's work has appeared in many national and international art exhibits, including, inexplicably, the Whitney Biennial exhibit in 2002.  He continues to publish his strips as he finishes them in the pages of the Virginia Quarterly Review. His ongoing Acme Novelty Library series reaches its 20th issue in 2010.  He was recently awarded the Hoi Fellowship by the newly formed United States Artists, a non-profit organization that makes direct grants to working artists.  Ware lives in Oak Park, Illinois with his wife, Marnie, a high school science teacher, and their daughter, Clara.