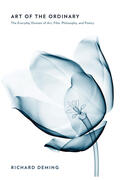 Cutting across literature, film, art, and philosophy, Art of the Ordinary is a trailblazing, cross-disciplinary engagement with the ordinary and the everyday. Because, writes Richard Deming, the ordinary is always at hand, it is, in fact, too familiar for us to perceive it and become fully aware of it. The ordinary he argues, is what most needs to be discovered and yet is something that can never be approached, since to do so is to immediately change it.
Art of the Ordinary explores how philosophical questions can be revealed in surprising places—as in a stand-up comic's routine, for instance, or a Brillo box, or a Hollywood movie. From negotiations with the primary materials of culture and community, ways of reading "self" and "other" are made available, deepening one's ability to respond to ethical, social, and political dilemmas. Deming picks out key figures, such as the philosophers Stanley Cavell, Arthur Danto, and Richard Wollheim; poet John Ashbery; artist Andy Warhol; and comedian Steven Wright, to showcase the foundational concepts of language, ethics, and society. Deming interrogates how acts of the imagination by these people, and others, become the means for transforming the alienated ordinary into a presence of the everyday that constantly and continually creates opportunities of investment in its calls on interpretive faculties.
In Art of the Ordinary, Deming brings together the arts, philosophy, and psychology in new and compelling ways so as to offer generative, provocative insights into how we think and represent the world to others as well as to ourselves.