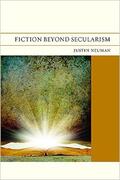 Northwestern University Press
Modernist thinkers once presumed a progressive secularity, with the novel replacing religious texts as society's moral epics. Yet religion—beginning with the Iranian revolution of 1979, through the collapse of communism, and culminating in the singular rupture of September 11, 2001—has not retreated quietly out of sight.
In Fiction Beyond Secularism, Justin Neuman argues that contemporary novelists who are most commonly identified as antireligious—among them Orhan Pamuk, Salman Rushdie, Ian McEwan, Margaret Atwood, Nadine Gordimer, Haruki Murakami, and J. M. Coetzee—have defied assumptions and have instead written some of the most trenchant critiques of secular ideologies, as well as the most exciting and rigorous inquiries into the legacies of the religious imagination. As a result, many readers (or nonreaders) on either side of the religious divide neglect the insights of works like The Satanic Verses, Disgrace, and Snow. Fiction Beyond Secularism serves as a timely corrective.
http://www.amazon.com/Fiction-Beyond-Secularism-FlashPoints-Justin/dp/0810129892