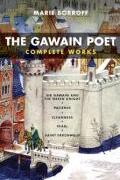 W. W. Norton & Company
This book presents the five poems that make up the entire literary legacy of the anonymous late-medieval poet best known as the author of "Sir Gawain and the Green Knight." The translations open a window on a world of knightly adventure and Christian devotion six centuries removed from our own. Their narratives convey representations of the human predicament in which the acting out of natural impulses is constantly subjected to physical, moral, and social constraints.
The book is accompanied by a website providing more information about the poems and enabling a listener to hear any part of the translator's dramatic readings of the complete works, as well as the selected passages of the Middle English originals.