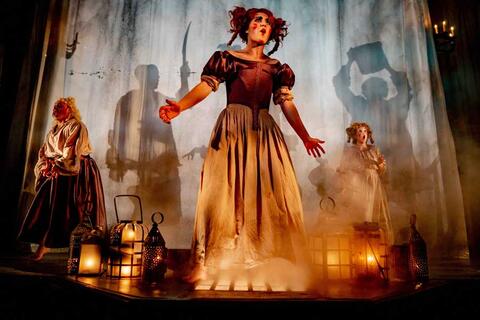 Event time:
Friday, November 19, 2021 - 12:30pm
Event description:
The Yale English Renaissance Colloquium Presents: 
"Performing Restoration Shakespeare"
A talk by Richard Schoch, Professor at the School of Arts, English and Languages, Queen's University Belfast
and Amanda Eubanks Winkler, Professor and Department Chair of Music History and Cultures and of Music and Art Histories, Syracuse University
Richard Schoch is the Principal Investigator and Amanda Eubanks Winkler is the International Co-Investigator of the ARHC-funded Performing Restoration Shakespeare Project, a collaborative effort of scholars and theater and music professionals to bring Restoration adaptations of Shakespeare back to modern audiences. The Project included a 2017 Workshop on the Dryden-Davenant Tempest at the Globe, a 2018 Production of the Davenant Macbeth at the Folger Shakespeare Theater, and a 2019 Restoration Shakespeare summer school at the Shakespeare Birthplace Trust. 
Schoch and Eubanks Winkler's new book Shakespeare in the Theatre: Sir William Davenant and the Duke's Company is forthcoming Thursday, November 18th 2021 from Bloomsbury Publishing.
The Event will take place on Friday November 19th at 12:30-2:00pm on Zoom
Registration link here, or contact caitlin.hubbard@yale.edu and alana.edmondson@yale.edu.