Greg Ellermann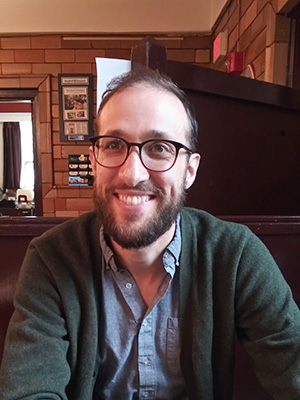 Ph.D., Rutgers University
Current research interests include romanticism, the history of philosophy, poetry and poetics, and environmental literature and criticism. My first book, Thought's Wilderness: Romanticism and the Apprehension of Nature, will be published by Stanford University Press in 2022. While much recent ecocriticism has questioned the value of nature as a concept, my book insists that it is analytically and politically indispensable, and that romanticism shows us why. Without a concept of nature, I argue, our thinking is limited to the world that capitalism has made. Defamiliarizing the tradition of romantic nature writing, my book contends that the romantics tried to circumvent the domination of nature that is essential to modern capitalism. As I show, poets and philosophers in the period such as Immanuel Kant, G. W. F. Hegel, Mary Wollstonecraft, William Wordsworth, and Percy Shelley were highly attuned to nature's ephemeral, ungraspable forms: clouds of vapor, a trace of ruin, deep silence, and the "world-surrounding ether." Thought's Wilderness explains how nature's vanishing – its vulnerability and its flight from apprehension – became a philosophical and political problem. In response to a nascent industrial capitalism, romantic writers developed a poetics of wilderness – a poetics that is attentive to fleeting presence and that seeks to let things be. Trying to imagine what ultimately eludes capture, the romantics recognized the complicity between conceptual and economic domination, and they saw how thought itself could become a technology for control. This insight, I propose, motivates romantic efforts to think past capitalist instrumentality and its devastation of the world. Ultimately, Thought's Wilderness undertakes a fundamental rethinking of the aesthetics and politics of nature.
Selected Publications
Book
- Thought's Wilderness: Romanticism and the Apprehension of Nature (Stanford University Press, 2022)
Articles and Book Chapters
-"Plasticity, Poetry, and the End of Art: Malabou, Hegel, Keats," in Romanticism and Speculative Realism. London: Bloomsbury, 2019. 197-216.
-"A Poetics of Ether," European Romantic Review 29.3 (2018): 389-98. 
          *Winner of the 2018 Keats-Shelley Association Prize for best essay in Romantic studies.
-"Hegel, In and Out of the Woods: Nature, Reflection, Capital," Essays in Romanticism 23.1 (2016): 1-18.
-"Late Coleridge and the Life of Idealism," Studies in Romanticism 54 (Spring 2015): 33-55.
-"Speculative Romanticism," SubStance 44.1 (2015): 154-74.
Other Publications
- "A Note on 'Posthumous Existence,'" in "'Remember me to all friends': A Collective Valediction for Keats," The Keats Letters Project (November 2020).
- "Red Shelley, Once Again," 50 Voices Special Issue, Keats-Shelley Journal 68 (2019 [2020]).
-"The Epigenesis of the Work," Forum on Audrey Wasser's The Work of Difference, Syndicate (May 2018): 7 pp.
-"Bounding Lines/Lignes de limitations," in JJ Levine, Queer Portraits: 2006-2015. Montreal, Quebec: 2015; distributed by Anteism Publishing and Metonymy Press. 84-7.