Greg Ellermann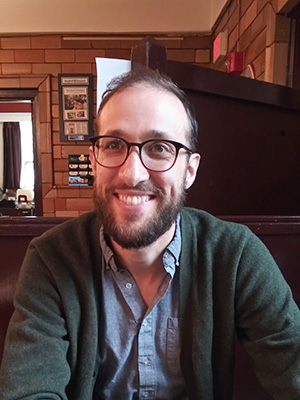 Ph.D., Rutgers University
My current book project, Thought's Wilderness: Romanticism and the Apprehension of Nature, thinks anew about the meaning of "nature" for Romantic poetry and philosophy. It argues that Romanticism's radical experiments in verse circumvent the conceptual and economic appropriation of nature essential to modern capitalism. Departing from familiar accounts of Romanticism in which nature is invariably fitted to a perceiving consciousness, I discover in the poetry and philosophy of the period an attunement to nature's ephemeral, ungraspable forms – forms like ether, atmosphere, ruin, and light. Rereading canonical works by Wordsworth, Wollstonecraft, Coleridge, and Percy Shelley, I identify a Romantic poetics of "wilderness," Shelley's word for a nature that is fleetingly sensed but eludes total apprehension or mastery. My project thus reopens the once-urgent question of the complicity between conceptual and economic domination. Its unique contribution is to show how Romantic poetry, especially through the use of figuration, works to overturn hierarchical relations and to think about nature in non-appropriative ways. Chiming with recent developments in speculative philosophy and with the broad renewal of the environmental humanities, my project insists on the relevance of Romanticism, both as an artistic movement and as an academic field singularly attentive to the poetics of nature. Other research interests include the history of aesthetics, poetry and poetics, contemporary philosophy, cinema, and communist theory.
Selected Publications
Articles and Book Chapters
-"Plasticity, Poetry, and the End of Art: Malabou, Hegel, Keats," in Romanticism and Speculative Realism. London: Bloomsbury, 2019. 197-216.
-"A Poetics of Ether," European Romantic Review 29.3 (2018): 389-98. 
          *Winner of the 2018 Keats-Shelley Association Prize for best essay in Romantic studies.
-"Hegel, In and Out of the Woods: Nature, Reflection, Capital," Essays in Romanticism 23.1 (2016): 1-18.
-"Late Coleridge and the Life of Idealism," Studies in Romanticism 54 (Spring 2015): 33-55.
-"Speculative Romanticism," SubStance 44.1 (2015): 154-74.
Other Publications
-Review of Bo Earle's Post-Personal Romanticism, Keats-Shelley Journal (forthcoming).
-"The Epigenesis of the Work," Forum on Audrey Wasser's The Work of Difference, Syndicate (May 2018): 7 pp.
-"Bounding Lines/Lignes de limitations," in JJ Levine, Queer Portraits: 2006-2015. Montreal, Quebec: 2015; distributed by Anteism Publishing and Metonymy Press. 84-7.