Colton Valentine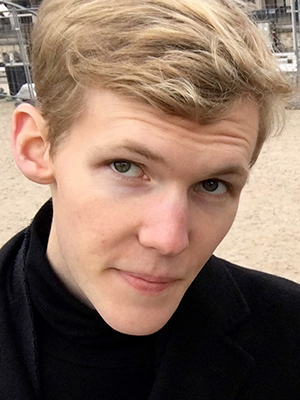 Areas of Interest:
Late 18th-early 20th Century British; cosmopolitanism; decadence; French translation and reception; queer studies; digital humanities
Selected Articles and Criticism:
"H.G. Wells and the Fin-De-Siècle Gustatory Paradox." Review of English Studies 2020 (forthcoming).
"A Temple to Transnational Queerness: The Politics of Commemorating Oscar Wilde." European Journal of English Studies, Issue on "Decentering Commemorations" 24 2020 (forthcoming).
"Geographical Amusement: The Rise of the Cartographic Board Game." Cabinet Magazine, Kiosk August 2020.
"Not Noticing, Infallibly: The Critical Liaisons of Henry James, French Decadence, and Honoré de Balzac." Henry James Review 41.2 2020, 97-115, recipient of Leon Edel Prize.
"La Peau de Weltliteratur: Balzac's Window into Goethe's New Literary Era." Journal for World Literature 5.1 2020, 111-131.
"A Bid for History: On Leah Price's What We Talk About When We Talk About Books." Los Angeles Review of Books December 2019.
"Vers une génétique de la critique: le cas de Georges Poulet." Genesis 46 2018, 173-181.