Colton Valentine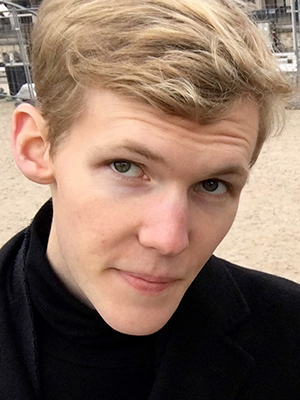 Areas of Interest:
Late 18th-early 20th Century British; multilingualism; decadence; translation studies; queer studies; digital humanities
Dissertation Topic:
"Between Languages: Queer Multilingualism in the British Belle Époque"
Advisors:
Ruth Yeazell, Marta Figlerowicz, Stefanie Markovits, Katie Trumpener
Selected Articles:
"Illness as Character as Metaphor." ELH (forthcoming).
"On Vernon Lee's Walter Pater and Translating the Victorians." Victorian Literature and Culture 51.2 (2023): 293-305.
"Vernon Lee, Queer Relations, and a New Guard of Victorianist Multilingualism." Victorian Studies 64.1 (2021): 62-87.
"Domesticating Decadence: Joris-Karl Huysmans, Pierre Louÿs, and Their Invisible English Translators." MLQ 82.4 (2021): 441-72.
"'I Sappho': A Case for Character in the Early Writings of Algernon Swinburne." Victorian Poetry 59.1 (2021): 23-47.
"H.G. Wells and the Fin-De-Siècle Gustatory Paradox." Review of English Studies 71.302 (2020): 937-51.
"A Temple to Transnational Queerness: The Politics of Commemorating Oscar Wilde." European Journal of English Studies, Issue on "Decentering Commemorations" 24 (2020): 146-61.
"Not Noticing, Infallibly: The Critical Liaisons of Henry James, French Decadence, and Honoré de Balzac." Henry James Review 41.2 (2020): 97-115. Recipient of Leon Edel Prize.
"Vers une génétique de la critique: le cas de Georges Poulet." Genesis 46 (2018): 173-81.
Selected Public Criticism:
"Aubrey Beardsley's Perverse Recipe for Success. The New Yorker, February 2023.
"Against Queer Presentism: How the Book World Neglects the Archive." The Drift, October 2022.
"The Madeleine's Metapragmatics: On Michael Lucey's What Proust Heard: Novels and the Ethnography of Talk." Los Angeles Review of Books, April 2022.
"A Bid for History: On Leah Price's What We Talk About When We Talk About Books." Los Angeles Review of Books, December 2019.